Bob Dylan Comics
Part 1
I decided to start this Substack so I could share some old, unpublished comics. But I realized as I was looking through them, that a lot of them were about Bob Dylan.
A long, long time ago, I used to follow Bob Dylan's tour around. Why? Something about Dylan's music grabbed me, like nothing before or since. Love him or hate him, the man's a genius who's written some of the most powerful songs in the English language. And even if you don't like his music, you have to be impressed by his commitment to his so-called "Neverending Tour." He's been playing around 100 shows every year, for the past thirty years or so. Wow!
Thanks for reading The Drawing Book! Subscribe for free to receive new posts and support my work.
---
How did I become a fan who travelled around to see Dylan perform around 50 times? I'd better start at the beginning.
In the 1990s, I went to art school for a while (the Ontario College of Art & Design), and as a class assignment, I had to keep a drawing journal. This was the start of a few years of autobiographical comics that I called "The Drawing Book." Here's the first mention of Bob Dylan in The Drawing Book, in the fall of 1996:
When I drew that picture, my mom had just visited me in Toronto. We'd gone shopping together, and I still remember the moment we saw the hat. I stopped in my tracks and pointed at it. I said, "Mom, that is a… brand-new leopardskin pillbox hat!!!" I had just been listening to Dylan's song "Leopard-Skin Pill-Box Hat." It felt like this hat had been placed there especially for me. I had to get it. I've worn it to every show since.
But first, a few notes about this little sketch. It's no coincidence that Bob is singing the line, "Her sin is her lifelessness." It's a line from a song called Desolation Row, about (among other things) a young woman called Ophelia, who, "on her twenty-second birthday… already is an old maid." I had just turned twenty-three when I drew this picture, and I wasn't feeling great. Art school was not where I wanted to be, and I was going through some hard times.
But why was I drawing Bob Dylan in the first place?
My roommate and I had spent most of the previous two years getting really, really into Dylan's music.
Here are some of the mix tapes I listened to during that time. (I could tell another story about how I'm still confused about which songs belong to which albums, because of the mixed-up way I was introduced to a lot of them.) One of the tapes is entitled "Bob at 315 Walmer" - that was our address back then.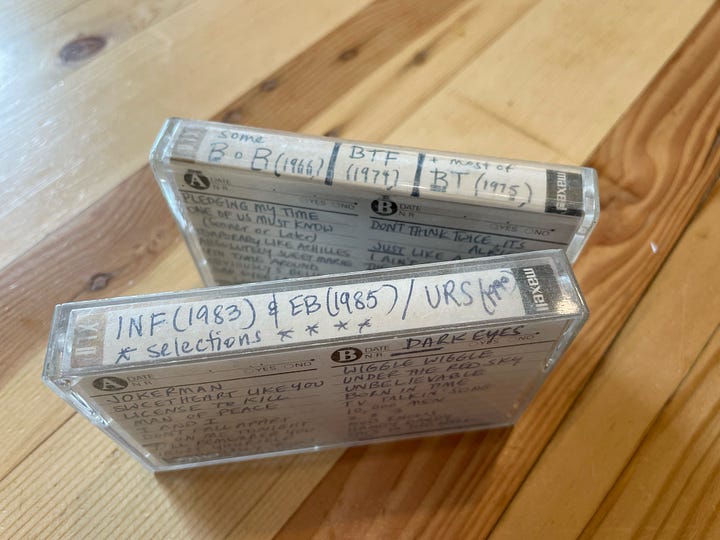 We went to the show, at a 1200-person standing-room-only venue called The Concert Hall, and it was nothing short of transformative. We were right up at the front of the crowd. We could see right into Bob Dylan's eyes as he sang. We were no longer just fans of the music, we were hooked on the live shows.
After the show, a roadie gave us the set list (printed on a piece of paper) and a guitar pick! I still have that guitar pick somewhere.
After the show was over, we couldn't forget about it. My friend recorded a mix tape with the set list we'd heard (along with a bunch of "extra" tunes on side B). By the way, just look at this set list! Seven Days! And Friend of the Devil! (Here's a version of Seven Days that Dylan played a bit later that same year.)
We had never heard of the Neverending Tour. The internet was still a new thing. But after that first show in Toronto, we found out that there was another show happening a couple of weeks later in London, Ontario. We went there, too.
At that London show, we met someone who offered to send us some bootlegs. That was the first time we'd heard that there were recordings of live shows, secretly taped by fans. A week or two later, our new acquaintance sent us cassette tapes in the mail. We were hooked.
The next show was in Akron, Ohio… a mere 5 hours from Toronto. We drove down for that show, and drove back the same night, getting home in the early hours of the morning. I was still twenty-three, but gone were my days of feeling like a lifeless old maid. A ten-hour road trip was nothing if we could see Bob!
But my life was about to change. I'd lived in Toronto for around five years, while going to school, but the wide open spaces of Alberta were calling me back. In The Drawing Book, I drew my memory of the previous summer and a Dylan-inspired drive I'd taken, on the day I realized that Alberta, where I'd grown up, felt like home to me.
And then came another day that changed my life. In the spring of 1997, exactly one year after that first Dylan show, I surprised myself by getting a job as a flight attendant with Air Canada. Even more surprising, I was going to be based in Calgary, of all places - the city I'd grown up in. I left Toronto and started a new life full of travels. And this is when the Bob Dylan tour adventures really began. But those stories will have to wait for the next chapter.
Thanks for reading The Drawing Book! Subscribe for free to receive new posts and support my work.